See how the street play movement is growing across the UK.
Find out what's happening where you live and if there are streets already playing out. We know that there are many active streets not listed here so please let us know of anything you are doing so we can add it to the map. You can also check our Local Authority Directory to see if your council has a street play policy yet.
Map key
You
Local authority
Active street
Local contact
What's happening in Northampton?
Street play across Northamptonshire is dealt with by the county council – see more details on the  Trilogy Leisure page, which links to Northampton County Council application form.
Blog posts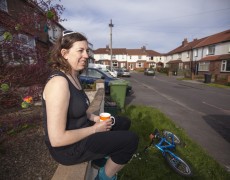 Ideas for pavement play
playingout posted this on 31/07/20
Need some inspiration for those long days at home in the summer ? Plenty of things require lots of money or a car of course but our suggestions won't need…
Children's Commissioner wants distancing dropped for children outdoors
Alice Ferguson posted this on 14/07/20