See how the street play movement is growing across the UK.
Find out what's happening where you live and if there are streets already playing out. We know that there are many active streets not listed here so please let us know of anything you are doing so we can add it to the map. You can also check our Local Authority Directory to see if your council has a street play policy yet.
Map key
You
Local authority
Active street
Local contact
What's happening in Portsmouth?
Residents have been campaigning hard for playing out in Portsmouth, and one of them Laura Mellor was featured in the financial times* in January 2020!
After a really successful trial in summer of 2019, the council has announced that they will be allowing all residents to close their streets for play.
We will post the link to the council webpage as soon as they publish it, but in the meantime contact us and we can put you in touch!
*There's a paywall on the article so if you can't read it, here's a summary copied and pasted:
"When Francis Avenue in Portsmouth, on England's south coast, was closed for roadworks during a school holiday, children in the area took the opportunity to put on their roller skates and get out their skateboards to play in the street.
The sight of her two daughters laughing and socialising with their neighbours inspired Laura Mellor to lobby her local council to trial Portsmouth's first "play street".
"When the road was closed to traffic it became a different street. The kids were out from dawn to dusk, having fresh air and exercise outside and I just thought this was amazing," said Ms Mellor.
The Portsmouth play street is part of a growing parent-led movement to close off residential streets to through traffic for a few hours weekly or monthly, typically on a Sunday, so that children can play outside more safely and neighbours can socialise together. People living in the street can still drive in and out, guided by stewards.
The movement to reclaim streets was ignited by a group of parents in Bristol, who ran the city's first play street in June 2009. They later set up Playing Out, which has helped communities around the world, from Taiwan to Canada, to set up their own play streets. In 2019, Australia announced plans to create 1,000 regular play streets.
"We had a feeling of injustice that children had lost that right to play out where they live. We felt the main barrier to having that freedom was traffic . . . we decided to push back and start to reclaim that right and space to play outside their front door," explained Alice Ferguson, co-director of Playing Out.
Play streets, complete with signposts to warn road users, were once a common sight around the UK but quickly disappeared as car ownership boomed after the second world war. Tim Gill, author and childhood researcher, said the growth of traffic had been the biggest barrier to children playing outside. "One of the powerful things about play streets is showing what is possible if we stop seeing streets just for cars, and start looking at them as social spaces that can be shared," he said.
Rachel Wrangham set up her play street in the London borough of Camden three years ago, and followed it up with setting up one outside her local school, Kentish Town Primary. "It's wonderful seeing the children rushing around and playing and hearing all the different noises. When you reopen the road and the cars come back it is quite extraordinary the feeling of threat and danger you have again," she said.
Ms Ferguson of Playing Out acknowledged the play street model was just a stopgap solution, noting that children needed much more in the way of physical activity, freedom and social interaction than just a couple of hours a week or month.
"Although resident-led play streets do have a lot of good outcomes in themselves, we always intended the model as a catalyst for bigger policy [and] social change and restoring the conditions needed for children to play out every day: safer streets, more connected communities, normalising the idea of children playing out," she said.
Blog posts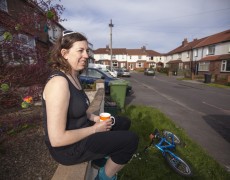 Ideas for pavement play
playingout posted this on 31/07/20
Need some inspiration for those long days at home in the summer ? Plenty of things require lots of money or a car of course but our suggestions won't need…
Children's Commissioner wants distancing dropped for children outdoors
Alice Ferguson posted this on 14/07/20