See how the street play movement is growing across the UK.
Find out what's happening where you live and if there are streets already playing out. We know that there are many active streets not listed here so please let us know of anything you are doing so we can add it to the map. You can also check our Local Authority Directory to see if your council has a street play policy yet.
Map key
You
Local authority
Active street
Local contact
What's happening in Reading?
Residents in Reading can apply for a play street to be created for up to three hours a fortnight using this form.
Local playing out organiser, Rachel, came across the playing out idea when her mum passed her the playing out story saying she thought this was something Rachel could do locally.
Twelve months later in September 2013, Reading Borough started a year long 'play streets' pilot with six streets taking part, and since then Reading has implemented a permanent street play policy, which you can read about and find applications for here.
Around 14 streets in Reading are already holding playing out sessions – you can read about the latest additions in Get Reading. Rachel's street recently won a Pride of Reading award!
Reading residents interested in finding out more can join the Reading play streets Facebook group to ask questions or ask advice or contact Rachel.
Blog posts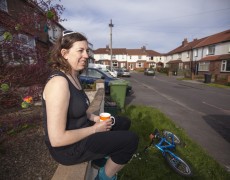 Ideas for pavement play
playingout posted this on 31/07/20
Need some inspiration for those long days at home in the summer ? Plenty of things require lots of money or a car of course but our suggestions won't need…
Children's Commissioner wants distancing dropped for children outdoors
Alice Ferguson posted this on 14/07/20